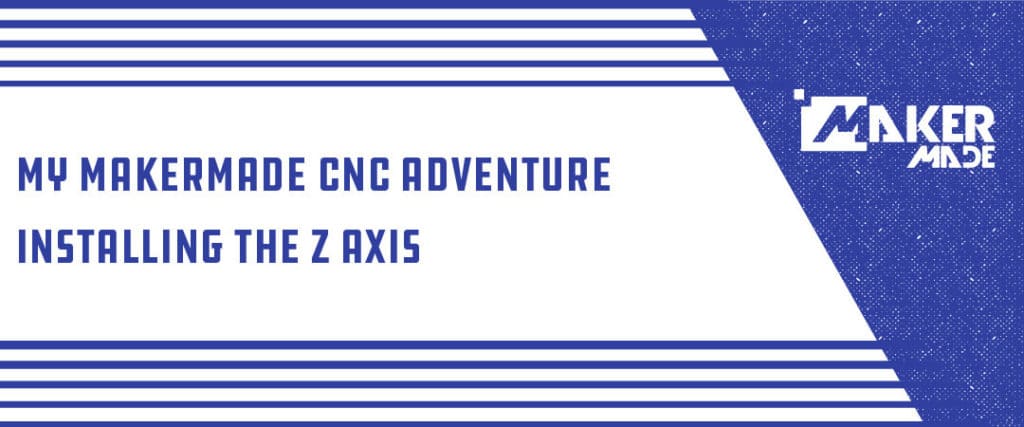 6. My Makermade CNC Adventure: Installing the Z-Axis
MAKING ALL THE MISTAKES SO YOU DON'T HAVE TO
Adding the Z Axis had its challenges, and reliable Z Axis operation continues to be an issue for many Maslow users. While I was in the thick of setting it up, it felt like I'd never get it to work, but after working through a lot of what turned out to be user errors, and a few bugs in design, I have it working pretty reliably. Maker Made is prototyping a Z Axis solution that will cut through the remaining issues and make it rock solid. I'm super excited to try that out when it's ready!
The most important thing to know about the Z Axis is that you don't want to Maslow without it. When I first calibrated my machine and tried to cut out the final sled, I was following an online assembly guide that has you add the Z Axis AFTER calibration and cutting the final sled.
So I tried to cut the final sled without a Z Axis. Meaning that every time there was a change in bit depth, I had to:
pause the cut
walk from my computer to my frame setup
turn the router off
manually adjust the Z Axis (totally guessing at depth because I had no idea)
turn the router on
walk back to my computer
click a button to resume cutting
If that had to happen half a dozen times in the course of the design, that would have been okay. But it had to happen eight times PER CUT. The total number of bit depth changes for the final sled pattern comes in at just under 150. It was enough to make me lose, if not my will to live, at least my will to Maslow.
The above video shows the part where it's FINALLY cutting the outer circle, the victory lap. But you can see the gashes in the plywood where I screwed up, forgetting to pause and raise the bit between cuts. In fact, since I didn't understand how to adjust the bit depth, the program finished and the sled still wasn't cut all the way through. I had other plans for my sled, I'd just been cutting it to go through the process and see what it was like, so I gave up on it. It's still stuck in that piece of plywood, frozen in place, like Hans Solo.
I've since cut out some super cool stuff, and I'm loving my Maslow, that first project was rough. So if you run into problems, don't get discouraged, and so far feedback from early testers of the assembly manual says that the detailed instructions make the whole process a lot smoother.
Tools Needed
Phillips-head screwdriver

T10 Torx Screwdriver

Safety goggles

Computer or tablet

Ground Control software (free)
Materials List
Part #14 Z Axis Motor

Part #15 Z Axis Motor Cable,

Part #16 Z Axis Motor Mounts (2)

Hardware Bag Z

Hardware Bag #2, ziptie
In manual use, your router has a knob/screw assembly that you turn in order to move the bit up and down. The Z axis is designed to replace that, saving you painstaking manual adjustments
These instructions are tailored to the Rigid router, if you have a different router, procedure may vary.
STEP 1 REMOVE ROUTER ADJUSTMENT KNOB
T10 Torx Screwdriver
In the Rigid router, adjustment knob is dark gray, located on side of router

Insert T10 torx screwdriver into hole in top of adjustment knob

Loosen screw, remove knob

Save knob/screw in case you want to restore your router to manual control
STEP 2 JOIN MOTOR MOUNTS
Bag Z (4) bolts, (4) nuts
Bag #8 allen wrench
Part #16 Z Axis Motor Mounts (L-brackets)
Place l-brackets back to front as shown, with lengthwise slots lined up

Insert bolts through slots in both brackets

Hold bolts steady with allen wrench

Twist nuts over end of bolts to secure

Leave loose for later adjustment
STEP 3 ATTACH MOTOR TO MOUNTS
Bag Z (6) screws
Part #14 Z Axis Motor
Phillips-head screwdriver
Insert motor shaft through opening in bottom of L-bracket, from outside to inside

Align six small holes in bracket with matching holes in motor

Insert screws through holes

Tighten with Phillips-head screwdriver
STEP 4 ATTACH THE SHAFT COUPLER
Bag Z shaft coupler
Bag #8 allen wrench
Shaft coupler has a larger hole on one end, a smaller hole on the other end

Slide end with smaller hole over motor shaft

Use allen wrench to tighten set screw nearest to motor

Leave other 2 set screws as is until Step 5
STEP 5 ATTACH Z AXIS TO ROUTER AND SLED
Bag Z (6) wood screws
Bag #8 allen wrench
Phillips-head screwdriver
Slide free end of shaft coupler over adjustment screw on router

Use allen wrench to tighten 2 set screws to engage shaft coupler with router

If unable to reach a screw, leave it for later when the motor gets rotated

Adjust/slide L-brackets so bottom bracket rests on sled

Insert wood screws through small holes in bottom of L-bracket, screw into wood of sled
STEP 6 ATTACH MOTOR CABLE
Bag #2 ziptie
Part #15 Z Axis Motor Cable
Insert one end of motor cable into end of Z Axis motor

Insert other end of cable into MP2 slot on Arduino

Use ziptie to secure cable to motor to provide relief from strain as sled moves
STEP 7 ENABLE THE Z AXIS IN SETTINGS
Computer or tablet
Ground Control software
Open Ground Control

From main screen, click Settings

Scroll down to "z-axis installed"

Click switch to "on"

Directly below, check "z-axis pitch" setting

For Rigid router, setting should be 3.17

If using another router, check markings on knob removed from router. It should indicate the distance per-rotation, ie how far down the bit goes each time the handle is fully rotated
STEP 8 TIGHTEN SHAFT COUPLER
Bag #8 allen wrench
Computer or tablet
Ground Control software
If a set screw in the shaft coupler still needs to be tightened-

Rotate shaft coupler to access it using z-axis buttons in Ground Control.

Tighten with allen wrench
STEP 9 LOOSEN ROUTER CLAMP
Phillip's head screwdriver
On Rigid router, clamping mechanism must be adjusted to allow movement

Loosen screw on inside of clamp

Correct tension will allow router to move freely but not wiggle.